As Internet users increase in numbers and their usage day by day, marketers are also using this as a chance to cater more audiences,increase their website traffic, and convert them into customers. With these in mind, we have written these, "Top Digital Marketing Trends to expect in 2020" to help you stand out against the competition!
Digital Marketing
Modern technology has evolved dramatically this decade prompting businesses of all types to utilize digital media platforms to keep up with the competition. 
As of October 2019, there are almost 4.48 billion active Internet users across the globe and this number continues to grow every day. 
With lots of people roaming around the Internet, small and medium-sized businesses and big brands are motivated to utilize this medium to increase their sales and profit. 
This is where digital marketing strategy comes in which was defined by Hubspot as a series of actions that help you achieve your company goals through carefully selected online marketing channels. 
Top Digital Marketing Trends
However, as more businesses utilize the same marketing strategy, getting ahead is kind of challenging. 
For this reason, you need to utilize these latest digital marketing trends and use this in your digital marketing strategy!
1. Artificial Intelligence
From chatbots, voice assistant into analytics, it is undeniable that Artificial Intelligence (AI) is taking digital marketing by storm. This is why brands are using AI to significantly be ahead of the competition. 
Harvard Business Review even pointed that AI would be widespread in every software, products and services, and by 2020,  60% of companies will be using AI for driving digital revenue.
Some of the brands that are currently using AI are Netflix which makes personalized recommendations to its audiences and Forbes that uses AI-powered content generation tools to produce news content on a regular basis.
If you don't know yet, AI refers to computer systems or machines that have working human abilities.
For instance, when you research a query in Google like, "How does AI works?"
With the help of Rankbrain which is a machine learning algorithm that sorts search results, Google will directly give you the best answer for your queries.
you will directly see an answer.


Moreover, AI also helps deliver highly personalized website experience with chatbots, audience insights, customer behavior prediction and voice search optimization. 
Using this kind of technology, you can already gather data from sensors, human inputs, social media platforms and blogs and analyze consumer behavior and search patterns that will help you to better understand how customers find your products and services in order to offer more effective and efficient services.
2. Chatbots
Another technology that is a trend in helping businesses to communicate with their customers in real-time are chatbots. 
Many companies are currently using these right now to have better and real-time interaction with their customers and to enhance their services.
Hiring an individual to monitor and chat with everyone who visits your website or social media pages is expensive and it's not all the time that they are around the clock.
However, with chatbots, you can save your expenses because you can easily program and personalize this technology on purposes like answering queries, resolving complaints, offer additional content and assist website visitors and customers. 
Survey shows that by 2020 this technology will power up customer service up to 85% and help businesses save over $8 billion dollar annually by 2022.
Brands are already using these like Uber whose chatbot communicates with customers via their mobile app.
Others also prefers having their chatbots on social media messaging apps like Facebook Messenger and WhatsApp as people spent more time on these platforms.
The benefits of using these for your digital marketing strategy are that these are easy to build, help you save time, automate business processes, improve customer service by giving immediate response, increasing customer satisfaction and improve website experience.
So, build you chatbot now and see how it helps!

3. Augmented Reality
Like what Ray-ban did in their digital marketing strategy above, they have also partnered chatbots with augmented reality (AR) which gives customers a unique experience on trying a product by just tapping their mobile devices. 
Gartner said that by 2022, 70% of enterprises will be experimenting immersive technologies and one of these is AR.
So, how does AR works? This uses digital technology to overlay information in any format and adds virtual objects into real objects to give customers an idea of how products appear when used in person.
Sephora Virtual Assistant for example uses an AR application that allows customers to see how the different colors of make-up will look on their face without really applying it.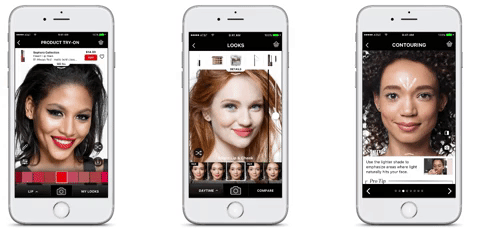 By letting the customers try the product first before buying using this form of technology, you will surely increase your sales and improve your brand's awareness, engagement and customer experience.
4. Voice Search

Voice search is not a new trend as this feature began when Google launched it in 2002. However, with the use of advanced AI technology on voice assistants like Google Assistant, Alexa, and Siri, companies are now using this feature in their digital marketing strategy.
According to ComScore that as of January 2018, there were an estimated one billion voice searches per month and that in 2020, over 50% of the searches will be from voice search.
Because more people are now utilizing this feature, this means that you should also incorporate this into your digital marketing strategy. This only says that you should adapt your content on how people search through this feature. 
So, how can you do this? Well, you should optimize and adapt your content for voice search. 
Write a content in a natural and conversational voice that answers the queries of consumers. This means that you should provide more time on semantic search. With this, you need to understand the intent of the search users, target long-tail keywords, provide concise answers in a context and focus on action queries. 
Then, include a structured data markup in the backend of your website as it helps search engines to understand your content better.
Lastly, make sure that your website is mobile-friendly as more people use voice search on their smartphones.
Moreover, if you're an owner of an e-commerce business, you can use Jetson.ai to give better service to your customers. With this, your customers can directly order from you whether they are using Siri, Google Home or other smart speakers. 
Take Domino's action towards voice search for example. Because they want to give better customer service, they have made a voice-ordering assistant named "Dom." With this, their customers can directly order through voice search. 
Image from MoEngage
5. Social E-Commerce
More than billions of people are now using social media platforms and with this reason, businesses are now using these to promote their brands.
Image from MoEngage
According to a Pinterest survey, 70% said that the platform helped them find new products. Moreover, Instagram said that 60% of its users said that they have discovered new products on the platform.
You should utilize this feature as this will help you provide better customer service.
For instance, Instagram has introduced Shoppable Post for brands to sell their product inside the platform. This allows businesses to link their online store from Instagram post with a "Buy Now" button. They also made this easy with Checkout that lets users to complete their purchase within the platform. 
Moreover, Facebook has also introduced Marketplace where individual sellers and business owners can sell their products inside the platform. With this feature, Facebook users can already sell products within the community by just taking a picture of the product, entering the details, and adding locations and category. This also helps consumers to easily find products as they can filter the results by adding their location, the category and their budget.
6. Interactive Content
Content will always be the best strategy to drive audiences into your website and convert them into customers.
However, gone are the days of the traditional static content because interactive content is 23 percent better than the former.
So, what are these content? These include quizzes or polls, pictures, videos, and engagographics. 
When you want to know what your audience thinks, you can directly ask them by posting a question, poll, or surveys. This is especially important when you want to have an interaction and understand your audience better.


Then, by adding pictures and videos, you can easily capture the eyes of your audience. This way, they will engage more on your website or your social media platforms.
Video seems to be the go-to place of Internet users who want to gather information directly without having to scroll up and down on their devices. You should make this type of content as this is the most popular way customers want to know about a product.
 Other than the normal infographics, you can also let your audience interact with the content by making it into an engagographics. This type of content will keep your audience engaged while keeping them informed at the same time.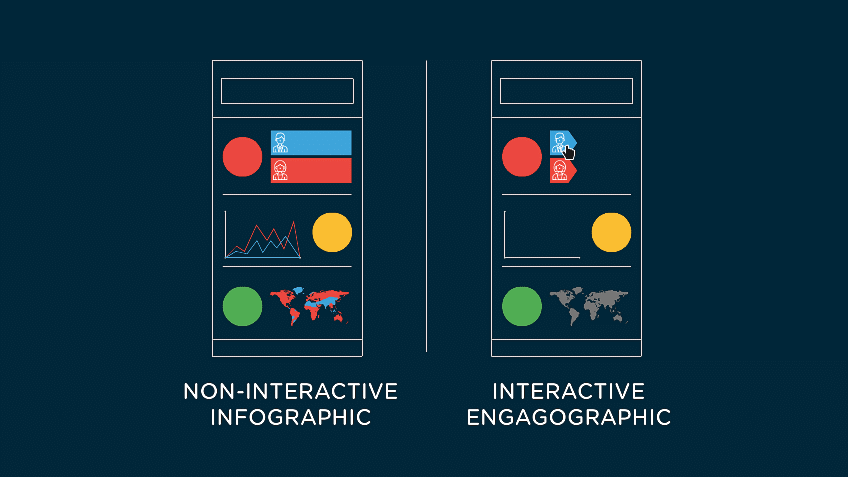 7. Omni-Channel Marketing

This kind of marketing refers to the process of using multiple platforms to give audiences and customers a multi-channel experience. 
This has been all the rage in the second half of 2019 and will continue to dominate the digital marketing community by 2020. 
So, why this type of marketing strategy gathers everyone's attention?
Because omni-channel marketing increases the engagement rate, purchase frequency, average order value, and customer retention rates rather than the single-channel marketing strategy.
To achieve this, you need to plan it strategically. According to Single Grain, you need to invest your efforts in a content.
First, choose an in-depth content that has high engagement rate and is already popular with your audience. Then, make smaller bits of content out of it that you can share to every digital channel. 
By using this to your blog content, social media posts, and mobile application updates, you will surely gather better digital marketing results. 
8. Stories
From Snapchat to other social media and messaging platforms, this kind of content really does capture the Internet users by storm.


On Instagram, brands are posting an average of 2.5 Stories per week that 500 million active daily users consume.
That's just Instagram alone, what more if all social and messaging platforms are combined.
Because this type of content disappear within 24 hours, this is a perfect opportunity for businesses to make content that audience will directly click and view.
Using this content, you will surely increase your brand awareness, get more audience engagement, and increase your website traffic. 

9.
Predictive and Augmented Analytics
In order to personalize your content, products, and services, you need to invest in new form of technology, tools and resources.
Normal audience data will directly goes to waste if you don't know how to leverage it. This is why business owners use predictive and augmented analytics to know more about their audience.
Predictive analytics is the practice of using data mining, predictive modelling, and machine learning to identify patterns and attempt to predict it in the future.
An example of brands that are using this type of analytics is Amazon where it extends its product recommendations all over the Internet. Using this, they have increased their sales up to 30% of their total sales. 


However, to simplify data presentation, businesses needs to use Predictive Analytics with Augmented Analytics. This will help automate data insight using Machine Learning and Natural Language Processing in order to simplify presentation of data and enable data sharing. 
Using these two advanced analytics programs, you will surely gather greater insight on customer behaviour and preferences.
10. Personalization
Getting ahead of the competition is easy if you make your audiences and customers at the center of your business. This means that you should personalize your digital marketing strategy.
Consider these data which says that 63% of consumers are highly annoyed with generic advertising blasts and 80% said that they are more likely to do business with a company if it offers personalized experiences.
Do keep in mind that whatever your product or services are, the people who will always have the last say are your customers. This is why you need personalization in your digital marketing strategy. 


Customize your content, products and services, emails, social media posts and other types of content that you share with your audience. 
Take Starbucks move on this way of ensuring positive customer experience for example. The brand used a gamified mobile app that gather customer data allowing them to customize their drinks, and encourages them to further use the app with its reward system.
Key Takeaways
Digital marketing is an important aspect of marketers who use the Internet to increase their brand awareness and sales.
Using different marketing strategies on this medium of communication is also a key ingredient in achieving this goal. 
Moreover, as new form of technologies and tools emerged,business owners should always be updated with the latest trend in digital marketing. 
Using the "Top Digital Marketing Trends to expect in 2020" above, you will surely increase the reach of your brand, have more engagement in your content, and increase your sales and profit.